Your Guide Choosing a Camping Gas Stove
Gas Stoves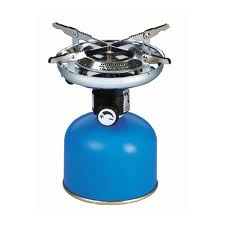 Camping gas stoves are one of the most important aspects to camping. They provide you with the freedom to cook wherever you are when touring. There are many different types of camping gas stoves which vary from small single burners to larger multi- burners.
There are different categories of camping stoves commonly known as backpacking stoves, gas cartridge stoves, Multi- Fuel stoves and Meth stoves.
Popular types manufacturers of gas stoves are Campingaz, Kampa, Coleman and Gelert. It is worth remembering that there are lots of other very high quality and value for money stoves made by other manufacturers.
What to look for
Operating a Gas Stove
Purchase a Gas Stove
What you should look out for?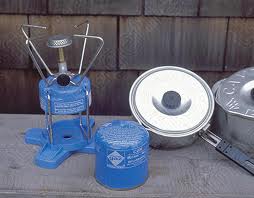 Quality is the biggest aspect to finding a backpacking stove. All metal stoves are stronger and are more resistant to being used in all weathers. The bigger the burner the quicker it will heat up but will use more gas. Stoves that have a generator tube can be used in milder conditions. This is because the fuel is preheated through the tube making it much easier to ignite.
So what is the difference?
While most gas stoves are low maintenance, gas cartridges provide easy to control and provide instant lighting. The efficiency of heating however declines as the cartridge begins to empty and cold weather can reduce efficiency.
If you travel around the world Multi- Fuel stoves are good because you can be assured that you will be able to use them hassle free of where you are going to get your fuel refill because they use the most common forms of fuel. They can also burn much hotter and operate at higher altitudes that gas cartridges.
The different types of fuel that can be used with muti-fuel stoves vary depending on model:
Paraffin
Kerosene
Methylated Spirits
Diesel
Unleaded Petrol
White Gas (Coleman Fuel).
Meth Stoves provide reliability and low maintenance. They are safe and easy to use where safety precautions are followed. They do however give low burning temperatures and unpredictable flame controls.

How to operate a gas stove
To operate your gas stove you must follow the instructions provided with your stove and fuel. You can read more about gas cylinder safety here. Also please watch the video and read information below which provides an overall step by step guide on operating and using your stove effectively.
Step 1: You will need

1 Stove

1 Gas canister

1 Lighter or matches

Step 2: Choose an area

Do not use camping stoves inside tents or confined spaces. The carbon monoxide fumes produced can be very harmful, and having an open flame inside a tent is always a bad idea. Only use a gas stove in an area that is well-ventilated.

Place the stove on a stable, level surface, and in an area that is shielded from the wind. Clear any debris from the area around the stove, especially dry leaves and twigs.

Step 3: Light the stove

Unscrew the top and bottom of the stove, ensuring the knob at the side of the stove that controls the release of gas is turned off. Put the gas canister inside. As you screw the stove back together the gas canister is pierced. From this point, the knob controls the release of gas. When you turn the knob you will be able to hear the stove hiss as gas is released. Strike a match and hold it to the hob to ignite the stove.

Remember never to leave the stove unattended while it is burning.

Step 4: Cooking

The knob on the side of the stove allows you to adjust the heat while cooking. Remember the stove is balancing on the canister, and is not as stable as your hob at home. Stir those beans gently, to avoid accidents!

Step 5: Packing up

Allow the stove to cool down completely before attempting to clean it. Ensure that gas valves have been properly turned off before packing up the stove. As long as you make sure the valve is securely closed, it is fine to leave a gas canister connected to the stove, ready for your next camping trip.
Information provided by videojug.com

You can view the original source and read further information via this link - camping gas stoves with grill
What stove should you choose?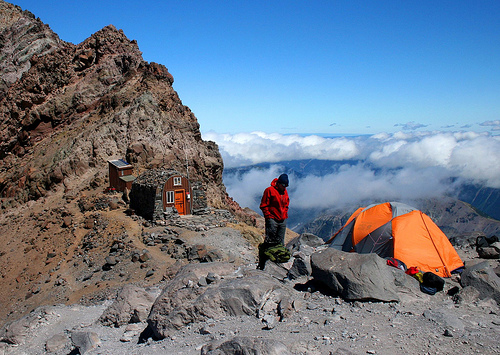 So based on the above information it is clear that different stoves all have their advantages depending on the situation of the user. It is worth bearing in mind that if you are travelling abroad and going on a plane it is unlikely you will be able to carry your fuel with you. If you are unsure as which stove to buy any gas stockist will be able to assist you in ensuring you are choose the correct stove and are absolutely comfortable with using them. More information on choosing the right gas stove and the touring abroad can be found on the Camping and Caravanning Club Website.
Where can you obtain a gas stove?
These days you can obtain a camping gas stoves from many different stores. Supermarkets and camping and touring outlets commonly sell stoves. Gas stockists regularly sell stoves and are able to provide a quality advice and assistance in choosing your stove.
Article Information

The information provided in this article is for guidance only. Safety precautions and instructions should be used at all times and if unsure always seek professional guidance. Camping-Gas.com cannot be held responsible for any information provided.