LPG BBQs vs charcoal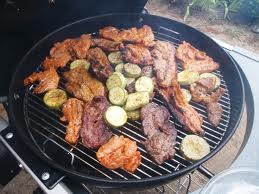 Barbecues are simply grills positioned over a heat source, that you use to cook outdoors. While they're most commonly used for grilling typical barbecue fare such as sausages and burgers, it's also possible to buy a barbecue that will allow you to roast, fry, sauté, boil and simmer a wide variety of foods.
Gas or Charcoal?
Barbecue Features
Storage, Portability & Covers
Purchasing & Using
Safety Precautions
Gas or charcoal?
Most barbecues are fuelled by either charcoal or gas. There are some electric models available but these are few and far between. Whichever you opt for is a matter of taste, budget and personal preference.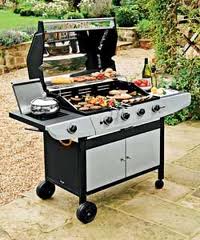 Grilling food over white-hot charcoal is the traditional method of barbecuing. And if a smoky barbecue flavour is your priority then a charcoal barbecue is your best bet. Charcoal barbecues are cheaper to buy than gas alternatives. But they can be tricky to light and slow to heat. Cook on a poor charcoal barbecue and you'll wait ages for your sausages to cook all the way through while your kebabs have burnt to a crisp. And cleaning away the ash can be a messy job.
To ensure a high cooking temperature, you'll need to light your charcoal about 45 minutes before cooking. However, some instant-light charcoal is ready for cooking in 15–20 minutes.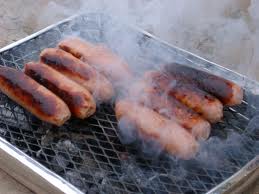 Gas barbecues are quick and easy to heat and cook on, so you're likely to get more use out of them. Plus they're easy to light for impromptu meals when you don't have much time. There's no waiting around for coals to get hot, and, because you can adjust the heat, you're far less likely to be left with sausages that are charred on the outside and pink in the middle.
But while gas barbecues are undeniably quick and convenient, some think that food cooked on them lacks that distinctive barbecue taste. They're also more expensive to buy than charcoal barbecues, and you've got to buy a gas canister to fuel it.
Charcoal barbecue benefits
Gas barbecues benefits

More heat
Hotter temperature
More flavour and smells from charcoal
More hands-on experience

Push Button Convenience
No messy charcoal to handle or light
Easy to start
Temperature control at the touch of a button
Control temperatures for longer periods of time
Can still add wood for smoky flavour
Wind is not a factor
Barbecue features to look out for
Barbecue hoods and lids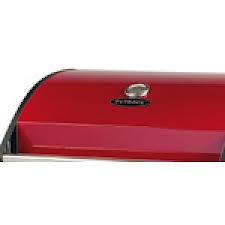 Lids are typically just a cover for an open grill to protect it from the elements, although you might find that some hoods are referred to as lids.
Hoods on barbecues help to retain heat. This is useful if you want to roast food or cook it more quickly than by just grilling. They work by enclosing the heat source and heating air that's trapped inside, increasing the temperature in the enclosed space.
Lava rocks and vapouriser bars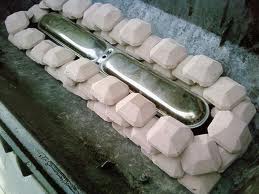 Good gas barbecues will have lava rocks or vapouriser bars to help create that smoky barbecue taste. Fat and meat juices dripping onto hot lava rocks evaporate, producing smoke and helping to add a chargrilled flavour to food. Vapouriser bars work in the same way - fat and meat juices drip onto metal bars, positioned above the burners, which then vapourise to infuse food.
Barbecue grills
The grill is the metal surface that you cook food on. It can be made from a variety of metals, including cast iron, stainless steel or chrome-plated steel, the latter being less durable and less expensive. It is sometimes called a cooking grid or cooking grate.
Porcelain-enamelled grills
These are metal grills that have been coated in a layer of hardened glass – like the inside of an oven - and are generally considered a high-spec feature. These grills are good because porcelain enamel is a non-toxic material that won't burn, rust, or weather. It's durable, easy to clean, and gives a smooth surface so food is less likely to stick to it. The downside is that the coating can crack or chip, exposing the metal below, which may result in the grill needing to be replaced.
Barbecue griddles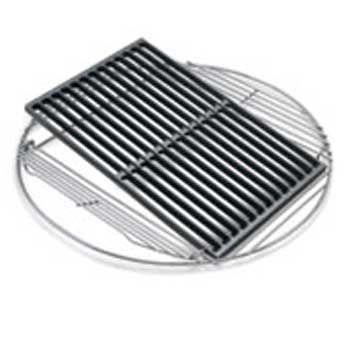 A griddle is a metal plate on a gas barbecue that's heated to high temperatures and which offers versatile cooking – you can fry (either directly on the griddle or in a pan that's placed on it), sauté, stir-fry and even simmer sauces. It's a great way to cook a wide range of foods, including fish, steaks, lean meats, eggs and vegetables.
Warming racks
Different foods take different lengths of time to cook. A warming rack is a smaller second grill that's positioned above the main grill. Food that's cooked can be placed on this warming rack to keep it hot without cooking it further, while other slower-cooking food catches up.
Temperature gauges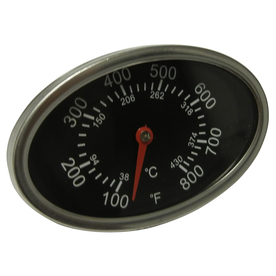 Temperature gauges will only be found on barbecues with hoods because they are used to monitor internal heat. This can help you to roast food more accurately. They also make pre-heating the barbecue quick and precise as you can easily tell when the barbecue has reached cooking temperature.
Air vents
Air vents on charcoal barbecues help control the temperature. You can open the vents to make coals burn faster and hotter, and close them to reduce the heat. You should always light charcoal barbecues with the vents opened.
Ash collectors and fat drip trays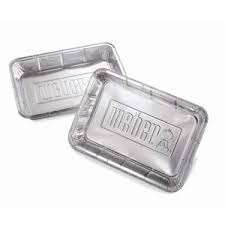 With ash and grease as by-products, barbecuing can be a messy business. But removable ash collectors on charcoal barbecues and fat drip trays on gas models can help. They catch the ash and fat generated by cooking, so you can pull out this tray and clean it separately, rather than having to clean the base of the barbecue.
Lining fat drip trays and ash collectors with a layer of foil and sand absorbs fat, ash and lumps of charcoal and can simply be thrown away, which make cleaning the trays easier.
Barbecue storage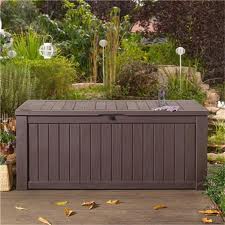 The utensils, dishes and bottles you use for barbecuing can soon mount up, and having somewhere to store this while you're cooking can make barbecuing easier. Side shelves and base storage trays let you rest and store what you need. Some well-designed barbecues will have tool hooks for hanging greasy utensils and condiment baskets to let you keep bottles, sauces and matches close to hand.
Barbecue portability
Barbecues can be heavy and unwieldy, and if you're likely to move yours around a lot you'll need one that's easy to move and manoeuvre. Most have two wheels so you can lift and wheel it from the opposite end – look out for models that have a handle to make this easier. Some have castors instead of wheels while others have two wheels and two castors; castors let you lock the barbecue in place so it's more stable to cook on.
Barbecue covers

If you intend to store your barbecue outside it's worth buying a tight-fitting cover to protect it from the elements.
What size of BBQ should you buy?
If you're catering for a family (up to six people) a two-burner gas or medium-sized charcoal barbecue should fit the bill.
But for larger gatherings and parties you might want to consider a three- or four-burner gas model - the grills are bigger so you can cook more food in one go.
Oil drum or half barrel barbecues are the largest type of charcoal models available – you can fit a huge amount of food on the grill so they're ideal for summer parties. But bear in mind that they use a lot of charcoal and so can be pricey to heat. Plus, a badly-designed model won't get hot enough to cook food all the way through.
Where will you use your BBQ?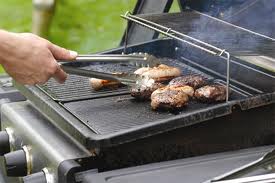 Most freestanding gas and charcoal barbecues are designed to be used on a hard surface, such as the patio.
If you want to use your barbecue on a lawn or while camping make sure the model you buy is sturdy and won't topple over in a strong gust of wind.
Should you buy a portable or table-top BBQ?
Portable barbecues are smaller than freestanding models and take up less space. You can even get barbecues that are small enough to use on a garden table or bench. Both types are ideal if you want to barbecue on the go or you want a barbecue you can take on holiday.
Portable gas barbecues offer more flexibility than freestanding models - they work with smaller disposable gas canisters so you can easily take them camping or caravanning. 
Important barbecue safety information
Barbecues should never be used in an enclosed space such as a tent, caravan or garage as carbon monoxide fumes can build up causing poisoning.
Never take a smouldering or lit barbecue into an enclosed space such as a tent, caravan or garage. Even after you have finished cooking your BBQ should remain outside as it will still give off carbon monoxide fumes for some hours after use.
Never use a barbecue inside to keep you warm.
Choose a suitable location for your barbecue in the open air and away from materials that could catch fire.
With gas barbecues check that the hose is properly connected to the gas bottle, and isn't cracked or perished.
Only ever light your barbecue with firelighters and fuels specially made for the purpose. Read the manufacturer instructions carefully. Never use petrol or other flammable products.
Keep matches, firelighters and fuels well away from lit barbecues.
Never leave a lit barbecue unattended; ensure children and pets are supervised at all times.
Never attempt to move a barbecue once it is lit.
Always leave your barbecue to cool down completely before cleaning, covering and storing.
With gas barbecues do not stand the gas bottle beneath the bbq
Article Information

The information provided in this article is for guidance only. Safety precautions and instructions should be used at all times and if unsure always seek professional guidance. Camping-Gas.com canot be held responsible for any information provided.