Butane and Propane Gas
Butane Gas
What is Butane?

Butane is a saturated hydrocarbon gas with the chemical formula C4H10. It is an alkane with four carbon atoms. Butane is a gas at room temperature and atmospheric pressure but is easily turned into a liquid by cooling or applying moderate pressure. Butane is a safe, efficient and clean fuel that powers many standard mobile heating appliances.
A far higher boiling point than propane makes butane only suitable for outdoor use during milder months. as low winter temperatures may mean the liquid will not boil to produce vapour to burn.
What do butane cylinders and Cartridges look like and what regulators are used?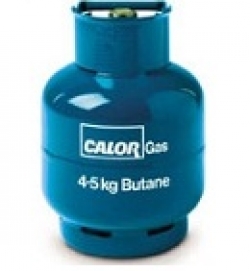 Most butane cylinders are blue. However the butane cylinders from BP Gas, Flogas, Handy Gas & MacGas which use the 21mm butane regulator (CG4) are usually a beige/grey/gold colour whereas the butane bottles from these same suppliers which use the 20mm butane regulator (CG5) are blue. All Calor Gas butane bottles are blue and only use the CG4 regulator apart from the 4.5kg bottle which uses CG3.
| Regulator Image | Regulator Name |
| --- | --- |
| | Butane 4.5 (LP) Regulator |
| | Butane 21mm butane regulator |
| | Butane 20mm butane regulator |
What applications use butane gas
Butane is ideal for indoor use such as cabinet heaters and for use outdoors in the Spring and Summer for camping. Butane is also used as lighter fuel for a common lighter or butane torch